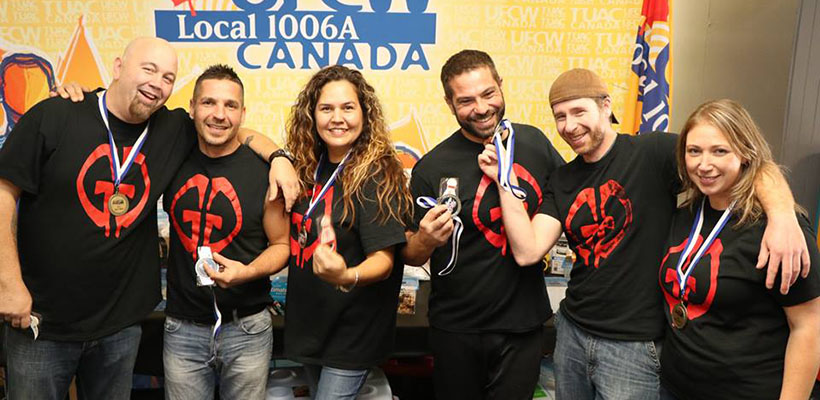 Members and staff came together to Bowl for a Cure on Sunday, November 6 at Toronto's Rexdale Bowlerama, raising more than $5,000 in the fight against Sickle Cell Anemia.
"As Ontario's best union, we work hard to make a difference in our communities and that's why we are proud to be at the forefront in fighting against Sickle Cell Anemia," said President Wayne Hanley. "Bowl for a Cure is a fantastic event which brings together our members, staff and community for a good cause. I want to thank everyone who participated for your generosity and support— Together, we will strike out Sickle Cell Anemia."
Hereditary in nature, Sickle Cell is a blood disorder which leads to red blood cells getting stuck in the blood vessels. As a result, much-needed blood and oxygen gets blocked from vital organs (including the lungs, heart, kidney, liver and much more). Funds raised will be donated to Faces of Our Children, an organization that raises awareness and support for this important fight.
"I wanted to come out to support a good cause and I like giving back. I like bowling and spending time with UFCW members and staff," said Mark Wells, a Local 1006A member who works at Loblaws Great Food.
Dave O'Brien, who works at Loblaws Real Canadian Superstore in Milton, also came out to the event.
"I enjoy bowling and I wanted to do my part to help find a cure."
The Sickle Cell Disease Association of Canada estimates 5,000 people in Canada have the disease.
"What a great event—a big thank you to our participants, our donors and sponsors for ensuring Bowl for a Cure was a success!" said Jonathan Lobo, Organizing Coordinator for Local 1006A. "This event would not have been possible without the support and leadership of President Wayne Hanley."
View Complete Gallery on Facebook