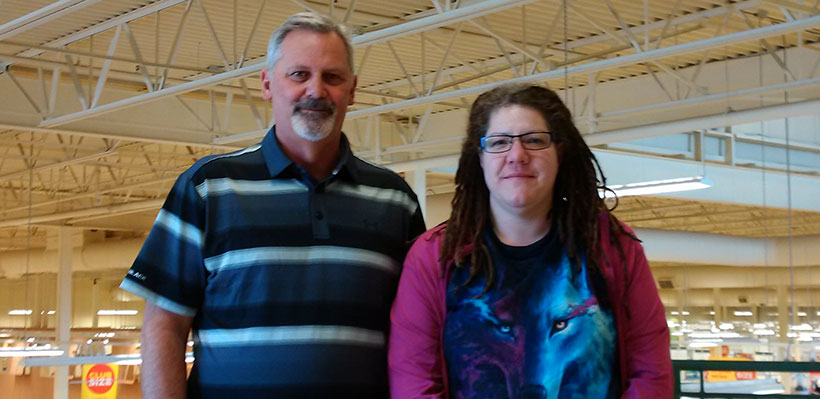 Margaret VanBuskirk is not a UFCW Canada Local 1006A member but she knows the importance of being one.
After her husband died, she and her children found themselves caught in a bureaucratic nightmare. Her husband was a local union member for 15 years.
Though the family qualified for dental and extended health benefits, they were incorrectly denied coverage. She reached out multiple times to the insurance company and her husband's employer without success. Her grief was compounded by the treatment she kept receiving from both companies for more than a year.
That all changed when her dentist's receptionist suggested she reach out to the union.
"I was a mess when I met Bill," she said about 1006A union rep, Bill Vantol. He filed a grievance on her behalf, and stood by her as the case went to arbitration.
"He was so kind and understanding and I was confident that he would be able to help," said Margaret. "He let me vent my frustrations a lot and reminded me that companies get so big that one hand doesn't know what the other is doing anymore. He never seemed to get frustrated when I wasn't able to call him back quickly or when it took me a long time to collect more paperwork. He patiently went through all my paperwork and receipts, which at this point were very disorganized."
Bill explained the grievance and arbitration process and always kept Margaret up to date with the status of the claim.
"I felt like I had someone standing up for me as I was being bullied by a large corporation," she said. "My only regret in all of this is not contacting the union right away. I strongly encourage all employees that are lucky enough to be unionized, to learn what their rights are and to take complaints to union reps. Big companies can't and won't look out for your interests."
Thanks to Bill's efforts, Margaret won survivor benefits of approximately $4,800.
"We are proud of the good work our union reps do everyday on behalf of our members and their families," said President Wayne Hanley.