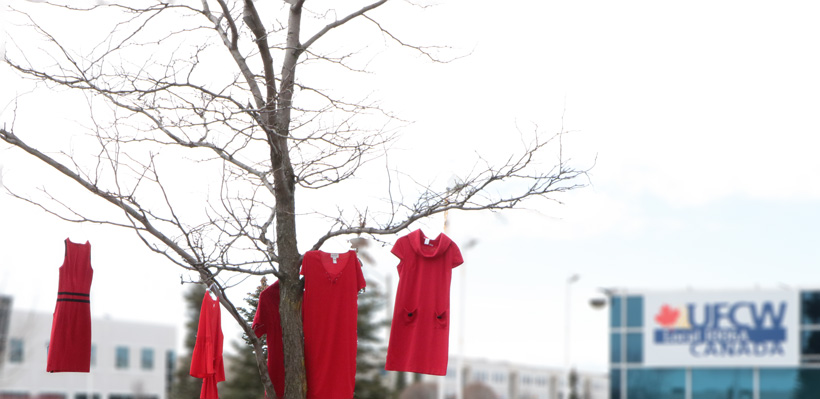 UFCW Canada Local 1006A activists and staff are coming together to participate in the REDress Project, to raise awareness of the issue of missing and murdered indigenous women.The red dresses are displayed in a variety of settings, to raise public awareness on this important initiative.
Your union has been collecting red dresses for the week of March 8 (International Women's Day) for an exhibit displayed on the trees around the union office in Woodbridge. If you are interested in donating a red dress for future exhibits, please contact Union Representative Diana O'Brien at This email address is being protected from spambots. You need JavaScript enabled to view it..
The statistics are sobering with estimates of missing and murdered indigenous women ranging from 1,200 (RCMP 2014) to more than 4,000 (Indigenous groups). Despite a recent inquiry, the reality is the situation for indigenous women has not improved.
"Our hearts are with the victims and their families and we vow to do what we can to raise awareness about this national tragedy," said President Wayne Hanley. "The REDress project is about remembering the daughters, sisters, wives, and mothers who have been murdered or are missing. We will remember them as we do our part to call for action so that indigenous women and children will be safe in our country."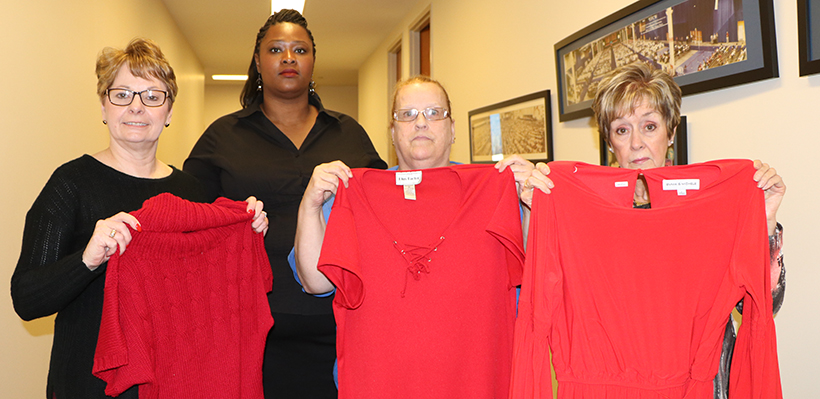 Nancy Prout, a member of 1006A's Women's Issues Network (WIN) was among those who donated a red dress.
"The Red Dress project makes a very loud statement and brings awareness to the fact that young Indigenous women in Canada have lost their lives through violence," said Prout. "These women have been murdered and have gone missing and people need to hear what is happening loud and clear across our country."
"I'm proud our union is helping bring attention to the issue of missing and murdered indigenous women by taking part in the REDress project," said O'Brien.
The initiative was first started by Metis artist Jamie Black, whose exhibit is now permanently featured at the Canadian Museum of Human Rights.