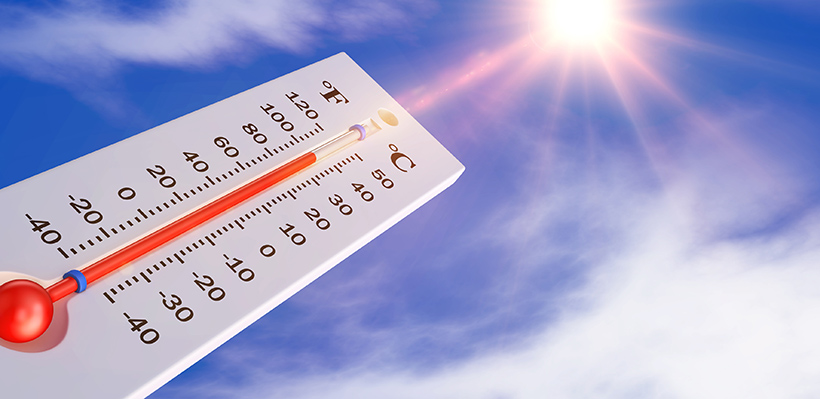 As temperatures soar this summer, remember to keep yourself safe.
The high temperatures mean your body is potentially at risk for heat stress, which occurs when your body's cooling system is put under pressure.
According to Ontario's Occupational Health & Safety Act, employers are legally required to take every precaution reasonable in the circumstances to protect workers. To prevent heat-stress related illnesses, the Ministry of Labour has guidelines for employers. These include developing policies and procedures to protect workers in environments that are hot because of hot processes and/or weather. Read more.
If you are physically exerting yourself in an environment that gets hot, it's important to ensure you take preventative measures to keep yourself healthy.
Excessive heat can have a multitude of effects on your body, including heat exhaustion and heat stroke (the latter being potentially fatal). Heat exhaustion signs include heavy sweating, weakness, dizziness, visual disturbances, intense thirst, nausea, headache, vomiting, diarrhea, muscle cramps, breathlessness, palpitations, tingling and numbness of the hands and feet.
According to the Canadian Centre for Occupational Health and Safety, signs of heat stroke include dry, hot skin (due to failure to sweat), a body temperature often exceeding 41°C, and complete or partial loss of consciousness.
TIPS TO STAY SAFE AND HEALTHY THIS SUMMER
Staying well-hydrated by drinking fluids regularly.
Slowly acclimatize to working in the heat
Wash regularly to keep skin clean and dry.
Reduce activity levels and/or heat exposure.
Move around and avoid standing in one place for too long.
Workers should check on each other to help spot any heat-related symptoms.
Wearing light-coloured, loose clothing
Schedule heavy work for the coolest times of the day
Stay away from alcohol and caffeine
Take breaks frequently to rest and recuperate
Work with your employer to schedule outdoor activity during cooler periods of the day
Resources: