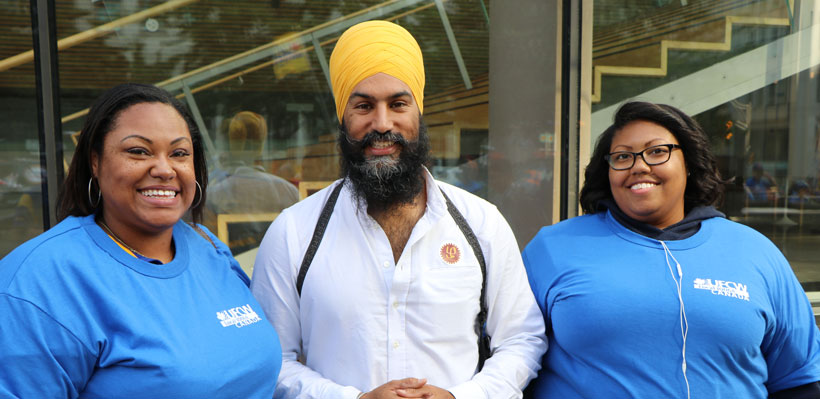 Born in Scarborough, Jagmeet Singh is the eldest of three children. He worked as a lawyer before entering politics. Jagmeet was elected leader of the federal NDP in 2017. Fresh off the federal election campaign, Jagmeet shared his thoughts on his leadership, the minority government and his vision for Canada.
What personal experience has been the most transformative for you, and helped you in your role as leader?
The impact of my father's addiction on my family and I was one of the most transformative experiences in my life. This experience continues to drive me in the work I do everyday as Leader. We could not have gotten through that without the help of family, friends and strangers, and a publicly funded rehab centre. It taught me how important it is for us to take care of one another, how important it is for people to have strong public services to rely on and to love people unconditionally.
You have strongly advocated for universal pharmacare. How much progress do you expect on this issue with this minority government? How transformative do you think universal pharmacare will be for Canadian families?
Pharmacare and dental care for Canadians who need it will be a key priority for New Democrats in the coming Parliament. We will bring forward a framework for a national pharmacare program and welcome the opportunity to work with the government to expedite progress on legislation, funding, and implementation of a universal pharmacare program in 2020.
It is our expectation – and that of Canadians – that the upcoming Throne Speech will include a clear timetable that lays out a path to implementing universal, comprehensive, public pharmacare without delay.
One in five Canadians has no drug coverage at all – and even those that do still can't afford to make ends meet. Nearly 2 million Canadians didn't fill a prescription last year because they couldn't afford it. Canadians deserve leaders with the courage to stand up to big pharmaceutical and insurance companies, and fight for a solution that will make life better for everyday people.
Pharmacare for all will save families more than $500 a year and save $4.2 billion in prescription costs across Canada. New Democrats will fight to give every Canadian pharmacare coverage that puts an end to impossible choices – and makes life more affordable for all.
Many pundits believe the NDP hold the balance of power with this minority government. Being in this unique position, what will be your top priorities?
Canadians sent a clear message: they want a government that works together for them. In the months to come, New Democrats will be focused on getting things done and making life better for people. We are ready to work together to get results for Canadians who are struggling, to tackle the climate crisis, and to strengthen the services we all rely on. Our priorities for this Parliament are clear. The NDP caucus will be focused on making sure that the government doesn't work for the rich and powerful, but that it works on behalf of the everyday people who elected it.
Genuine reconciliation, clean drinking water and dropping the appeal of the Canadian Human Rights Tribunal's ruling on discrimination against Indigenous children.
Pharmacare and dental care
Affordable housing
Fighting the climate crisis
Making the wealthiest pay their fair share
Helping with the burden of student debt
Making cell phone and internet bills more affordable.
This was your first time leading a national party in a federal election. What are the top three lessons you learned from this election campaign?
That no matter where you go across the country, mostly people want to take care of each other, Canadians have a shared value of wanting to take care of each other.
That people are afraid and worried about their future. People are facing the same struggles – and as leaders, we need to unite people instead of dividing them. Governments need to make better choices to make better people's lives better.
The campaign reiterated the lesson of how true it is that nothing great can be achieved when you're on your own. Any successful person has a really good support system, a great team taking care of each other to get things done.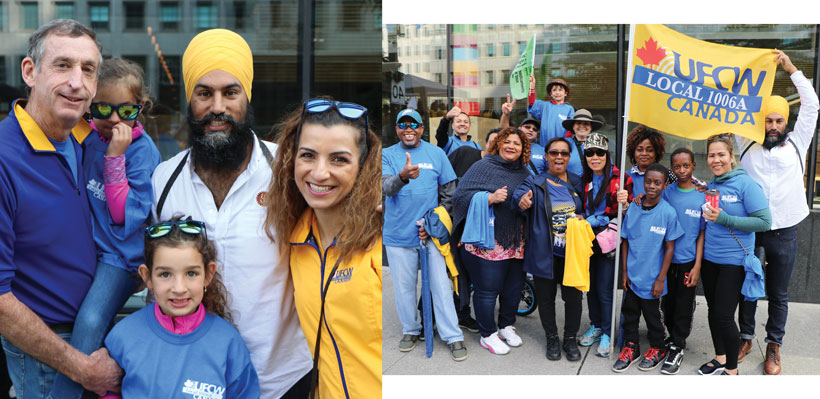 What was one of the best moments, and one of the hardest moments in the recent election campaign?
Best moment
Grassy Narrows – We got to bring the federal campaign to Grassy Narrows. Showing people across the country the hardships that people in Grassy Narrows face and telling the people of Grassy Narrows that they matter. That we do care and we will help.
Hardest moment
Justin Trudeau's Blackface - the effect this had on many racialized people was hard. People reached out to me expressing their experience with racism. It was hard for people who have gone through trauma and pain — physical, words, barriers — based on the colour of their skin or who they are had to live with that pain.
As work becomes more precarious and part-time, families struggle and the costs of living continue to rise, how will the NDP help advocate for working families at Parliament Hill?
It's hard for working families to get ahead when the Liberals keep giving breaks to the richest corporations and forcing the rest of us to pay the price.
Families are struggling, and they need help now. The NDP will fight to make life more affordable, strengthen health care and confront the climate crisis. New Democrats will fight for you.
The NDP will fight to create affordable child care, bring in a universal pharmacare program, bring in no-cost dental coverage for working families who need it, expand affordable housing and help struggling families with rent, and help lift the burden of student debt by pushing the Liberals to cancel all federal loan interest.
What is one thing you can share about yourself with our readers, that most Canadians wouldn't know?
My wife says I'm a pretty good cook. I do all the cooking at home. I love how cooking brings people together, I usually cook healthy meals and I like how it keeps people I feed healthy, while being delicious. It's my way of taking care of people.
Other than voting during elections, what do you think Canadians can do to strengthen our communities and democracy in our country?
Get involved! Get your voice heard. Participate in activities and meetings on issues that you're passionate about. Politicians are accountable to the people who elected them. Let them know what's important to you and what their priorities should be here in Ottawa.