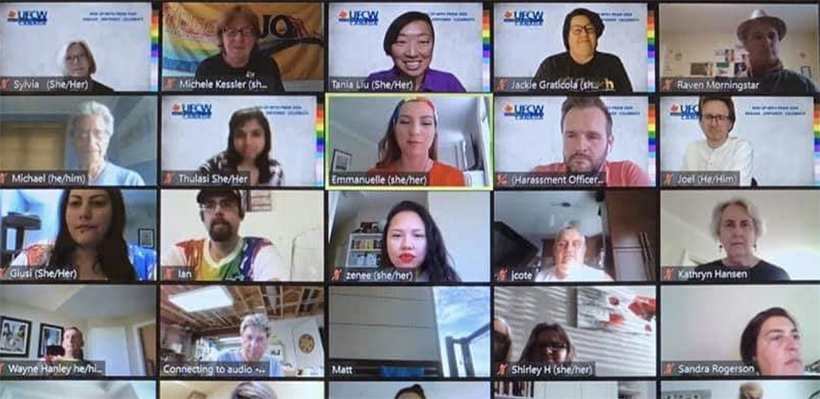 Local 1006A members and staff rallied for Pride 2020 through a virtual celebration, which brought together UFCW Canada locals across the country.
Participants celebrated pride, reflected on its historic roots, and renewed their commitment to social justice.
The interactive event featured a wide range of speakers, including 2SLGBTQi and labour activists from across Canada. Ravyn Wngz, who is a member of the Black Lives Matter TO Steering Committee, also spoke at the event.
"Standing up for equality, love and human rights is at the heart of our celebrations for Pride every year," said President Wayne Hanley. "We are proud of the great work our 1006OUTreach committee does in supporting and empowering our members from the 2SLGBTQi community to make their voices heard within their union and society as a whole."
Kamani Tannis, a member of 1006OUTreach, had his story featured during the virtual pride event. Tannis, who immigrated from Saint Vincent and the Grenadines, spoke about facing prejudice growing up and living as a gay man in his home country, and also encountering homophobia while working in the factories during his early years in Canada.
"Being gay is never going away – I cannot turn this switch off," Tannis said. "Pride is being who we are, living our lives with no judgement, and holding my boyfriend's hand when we walk down the street. What pride holds for me is the love we have for each other."
This was the first year for Tannis to participate in a pride event as a member of 1006OUTreach.
"The union has given me a platform at work to help others…especially young people who are figuring out where they go if they need help, who are facing bullying and who need resources," Tannis said. "I use that platform everyday to make a difference."
Benjamin Nunez, a member of 1006OUTreach, also spoke at about his experiences as a trans man. He fled to Canada from Honduras.
Nunez survived the coup in his home country, which led to many members of the 2SLGBTQi community being persecuted and killed. Even though he faces barriers as a trans man in Canada, he has found support and allies as a member of 1006OUTreach.
"For me, the union has been like a bridge," Nunez said. "On one side, there is injustice and on the other side, there is justice. The union is the bridge and it helps you to cross over to the justice side."