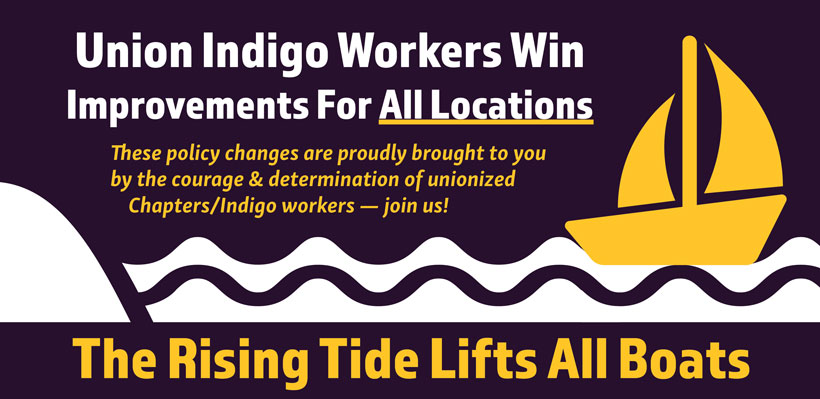 Anyone questioning the power of collective action to make positive change needs only to look at what workers at Indigo have been able to achieve in a few short weeks.
Workers at the Indigo Square One location in Mississauga voted to join Local 1006A on September 22, 2020 (check out their story). Inspired by their courage and determination, workers at the Pinetree Chapters/Indigo in Coquitlam BC followed suit and voted to join UFCW Local 247 on October 14, 2020.
As a result of the determination of these workers to seek union representation, Indigo has introduced new policies that will improve the lives of the company's workers across the country.
Wage increases of 2.5% to 10% for workers with more than 1 year service
Health & Safety Win: Customer Service Reps no longer have to clean washrooms
14 paid sick days if worker gets COVID-19
10 paid sick/wellness hours
The policy changes apply to all Chapters/Indigo locations across the country.
"These improvements are just the beginning for our new members at Indigo," said President Wayne Hanley. "We look forward to negotiating their first union contract with the additional protections these workers deserve."
Local 1006A encourages workers at Chapters/Indigo locations to connect with our organizing department.
"A union contract is the best way to get Indigo to keep their promises," said Organizing Director Lesley Prince. "We encourage all Indigo workers to join us to secure their future by getting those promises in a legally binding, union contract."
Workers interested in learning more about joining Local 1006A can contact Lesley Prince at (647) 518-3973‬ or This email address is being protected from spambots. You need JavaScript enabled to view it. (All communications is 100% confidential).