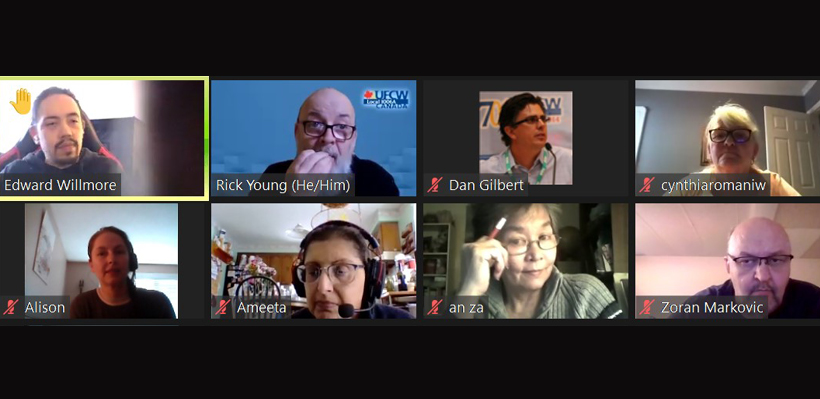 Local 1006A's first virtual online training session for new stewards was a great success, drawing high reviews from participants.
The training, developed in coordination with UFCW Canada, was aimed at new stewards who had not completed the Introductory Stewards course.
"This course gave me a great foundation for being a steward, more confidence in helping my co-workers and encouraged me to take more courses as they become available," said Edward Willmore, a steward from Loblaws Great Food in Toronto. "I feel like I have been given the first set of tools to perform my role more effectively and be a better resource for my co-workers – thanks for the great course."
Union Health and Safety Representative Rick Young facilitated the training, which consisted of online Zoom sessions and course material through UFCW Canada's webCampus. Topics included: myths about unions, why people join unions, union structure, 1006A and politics, the steward's role, and introduction to grievances.
"The Education and Training department is proud to innovate and adapt to meet the needs of our stewards during this pandemic," said Dan Gilbert, Executive Assistant to the President. "We are proud to offer this online training for new stewards to empower them with the necessary skills and knowledge they need to assist the membership."
Sarah Vieno, a steward who works at No Frills in Timmins, found the course useful.
"I find it great that we can undergo training online during this pandemic," she said. "I'm glad to have taken the course and I feel that I am more knowledgeable about my role as a steward. I love helping people and making my workplace better for everyone."
Alison Snasdell-Taylor, a steward from Loblaws Great Food in Ottawa, said the course content was well-organized and easy to follow.
"I found it very helpful to hear the point of view of other stewards," she said. "There were a lot of tips on how to engage with co-workers and build a trusting and positive relationship with them."
President Wayne Hanley commended the work of 1006A's Education & Training Department.
"We are thrilled with the overwhelmingly positive reaction from our stewards for this new type of training," said President Wayne Hanley. "Stewards training is vital in empowering our activists and strengthening our membership now and into the future."
Carmelo Lamanna, a steward at Miller Transit in York Region, called the course "exceptional."
"There was a lot of informative information," he said. "This union has definitely made an impact on myself and co-workers."