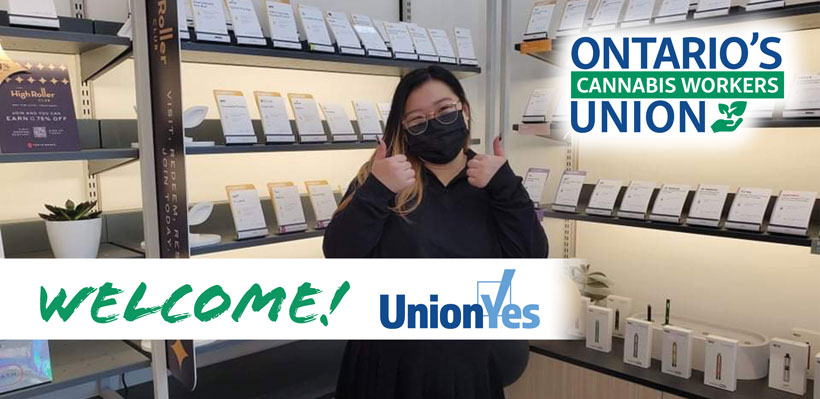 UFCW 1006A recently welcomed cannabis workers from a third Tokyo Smoke location, this time at Scarborough's Chartwell Shopping Center.
"It feels great to be unionized," said Olivia Lu, a worker from Tokyo Smoke. "I am really proud of what we have accomplished – the solidarity was moving. It's inspiring to see everyone stand up for one another."
1006A is quickly becoming the number one choice for cannabis workers. The local union is already home to Tokyo Smoke workers in Stoney Creek and Toronto and Superette (Ottawa).

"We wanted to make our workplace a better place for all of us," Lu said. "It was about getting treated with the respect we deserve."

President Wayne Hanley welcomed the workers from Tokyo Smoke.

"I'm proud to congratulate our newest members for standing up for themselves and their co-workers to make their workplace better," President Hanley said. "Union representation is the key to protecting and improving workers' rights in all industries, particularly the cannabis sector. It's exciting to see more and more cannabis workers choose UFCW 1006A to achieve fairness, respect and dignity at work."

The bargaining unit consists of nine workers who work as either Budtenders or Educators.

"It's amazing that these workers recognized their value and their power to collectively stand united to win improvements for all," said Organizing Director Lesley Prince. "This group showed tremendous solidarity during their unionizing effort."

As for Lu, she is excited about what the future holds for the cannabis industry.

"This is a pretty new industry and the fact that people are already stepping up and saying I want to make a difference not just for me, but for my co-workers is great to see," she said.