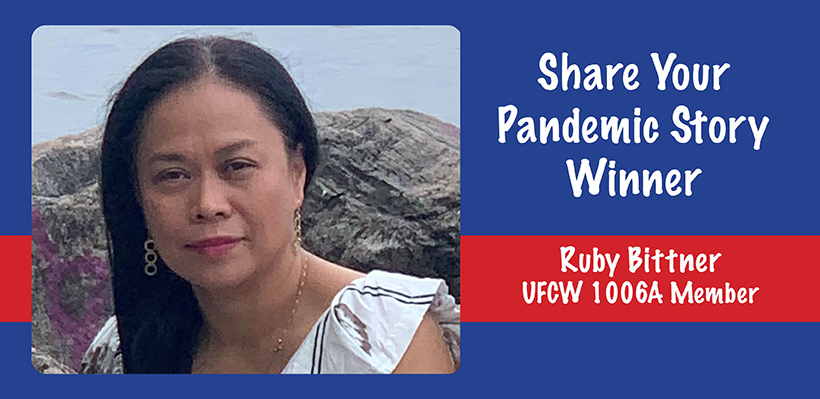 UFCW 1006A member Ruby Bittner, who works at Maple Leaf Poultry, is one of the winners of our Share Your Pandemic Story contest! Congratulations Ruby!
Your union is awarding 20 prizes – worth $250 each – to members whose entries are selected in the Share Your Pandemic Story contest.
There is still time to submit your entry. Deadline is October 28, 2021
Here is Ruby's story.
"My experience during COVID was sad.
It was started February 12, 2021 when my dad admitted to the hospital, then the doctor told us they are going to tested for covid.
On Sunday, February 14, the doctor called us that my dad is positive for COVID so every in the household should go to tested.
We went Monday all of us, my mom, my husband, and my two kids (who are 8 and 4) to get tested.
Following day it was February 16, 2021 Toronto Public Health called and said all of us were positive. Then hospital called us that my dad will admitted in ICU. He is in ICU in a comma. On February 24, 2021, my dad passed away.
All my family positve of COVID and my dad passed away – I'm so sad during that time. But through this experience I become more stronger, closer to God and a better person."
Share your pandemic story. You can submit your entry today. Deadline is October 28, 2021