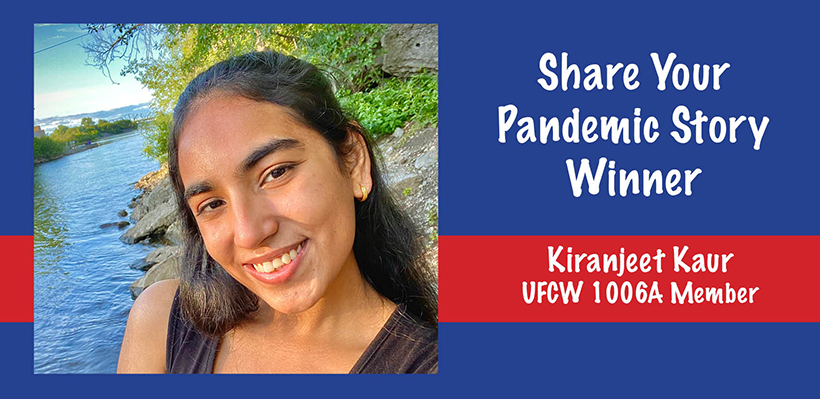 UFCW 1006A member Kiranjeet Kaur, who works at Loblaw in Ottawa, is one of the winners of our Share Your Pandemic Story contest! Congratulations Kiranjeet!
Your union is awarding 20 prizes – worth $250 each – to members whose entries are selected in the Share Your Pandemic Story contest.
There is still time to submit your entry. Deadline is October 28, 2021
Here is Kiranjeet's story.
"The current pandemic has surely taught me a lot, it is something which I've never experienced my life and hopefully never would in the future.
Being a full time university student things were definitely difficult for me as the transition to online learning and school was extremely challenging.
My first near experience with COVID 19 was when my roommate got sick with the virus, I had to get tested and had to go through 14 day self isolation following the public health guidelines.
It was hard to stay locked up in the house along with managing my final term exams at the same time. It was really stressful and there have been a lot of times when I thought of giving up everything. But still there was some tiny little hope, some optimism in me which led me to move forward with life.
I still continued to work at Loblaws, I've met a lot of different people throughout the whole pandemic, was able to learn a lot from them, hearing their stories and experiences.
Times were tough in the beginning since I was constantly worried about my health, the risk of getting Covid while working and also my family back home, fortunately everything turned out fine at the end.
This whole situation has definitely made me see the world from a very different perspective, made me learn how to prepare for the worst and always be positive.
A year and a half have passed, we all are still in a pandemic, but with increasing vaccinations, I'm very hopeful that we are very near beating COVID 19, and for sure a time will come very soon where we'll be able to re continue with our old lifestyle."
Share your pandemic story. You can submit your entry today. Deadline is October 28, 2021