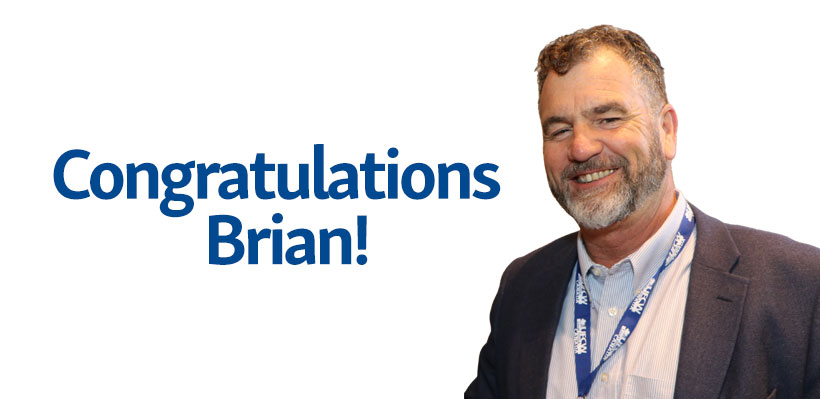 After 40 years with the local union, Regional Director Brian Reid is retiring.
"It feels great to retire but I will miss all the people I work with, from the stewards on the shop floor all the way to the top," he said. "I truly was lucky to be able to be a member and be involved with this organization for 40 years. The ability to have that kind of support behind you when you are making decisions that can affect people's lives for the better, is something that is truly awesome. I will miss that."
Brian's history with the local union began in November 1981 when he was hired as an assembler/casepicker at the National Grocer Erin Mills warehouse in Mississauga.
Known as someone who stood up for others, Brian was asked by his co-workers in 1984 to become a steward. From there, Brian's activism grew as he took training courses at the union. In 1993, he was elected President on the Warehouse divisional board.
"As a steward, I started getting more involved and enjoyed helping people in the warehouse," he said. "I think opportunities came along and I was lucky enough to be promoted to those positions."
In 1998, he was hired as a Union Representative with the local union, servicing Loblaw and No Frills stores, and warehouse and transport units. In 2004, Brian became the Director of the Transport Sector and in 2014, he became a Regional Director – a role he held until his retirement.
Looking back, Reid said he has so many good memories at the local union.
"I think what I will remember the most is the Stewards' Conferences we had every year," he said.
"I loved hanging out with all the stewards I worked with, and meeting others that I never would have known otherwise. The best part was that they loved the conferences as much or more than I did."
As he heads into retirement, Reid thanked everyone he worked with.
"My wife Barb and I are planning on doing some travelling, camping, sightseeing and spending time with kids and grandkids," he said.
Congratulations Brian! We wish you all the best on your next chapter.