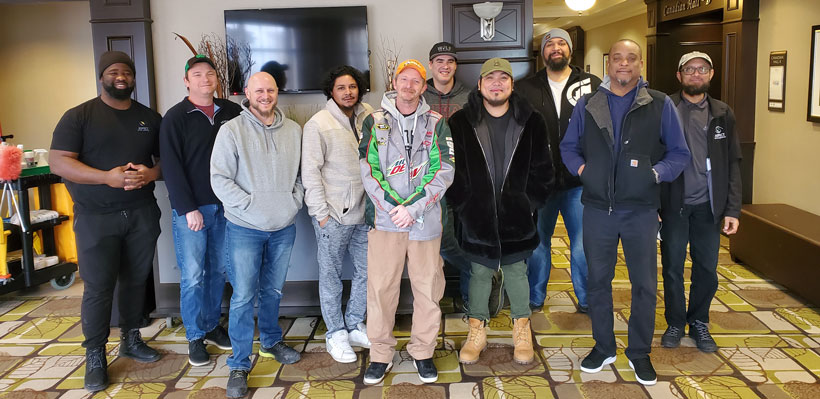 UFCW 1006A members at Aspect Retail Logistics have voted for a new union contract with several gains.
The term of the union contract is March 30, 2022 to January 27, 2027 and covers approximately 500 workers.
"Being a UFCW 1006A member means having access to highly skilled negotiators who look out for your interests at the bargaining table," said President Wayne Hanley. "I am proud of our negotiating team for their excellent work on behalf of the members at Aspect Retail Logistics in achieving a fair union contract."
The negotiations were led by Executive Assistant to the President Paul Docherty, with support from Union Representative Dustin Magee and members, Michael Burger, Jackson Finch, Sean Fitzsimons, Kyle Gleason, Neil Goodwin, Keegan Nicholson, Craig Saffier, Curtis Rodriques and Cory Rolle.
"I would like to thank our stewards, and Paul and Dustin for all the work and determination to see this through," said Curtis Rodriques, chief steward.
"The committee made a lot of positive advancements throughout the collective agreement, both monetarily and non-monetarily," said Docherty. "The committee put their heart and soul into these negotiations to ensure the membership was taken care of. They were tireless in going through the contract and taking every concern seriously."
Highlights
Wage increases and signing bonus
5 weeks' vacation for members with 15 years or more of service (previous qualifier was 18 years)
New statutory holiday: National Day for Truth and Reconciliation (September 30) was added to the list of public holidays with pay
Improvement in mandated overtime language
Improved discipline language
Full day's holiday pay and a day in lieu for full-time workers who work an eight hour shift on a statutory holiday