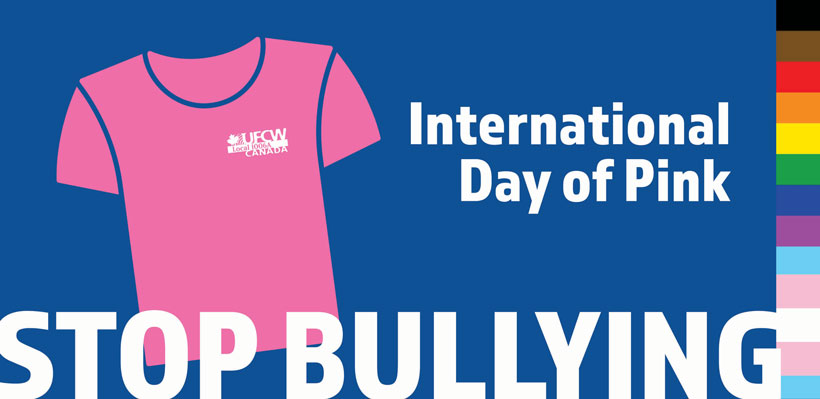 On April 13, your union encourages members and allies to join UFCW 1006A in observing the International Day of Pink.
Today, we reaffirm our commitment to eliminate bullying, homophobia, transphobia and transmisogyny at work and in our communities.
Members and allies can show their support by wearing pink.
According to Statistics Canada, more than 1 million people in Canada identify as LGBTQ2+, with one-third being under 25 years old.
"Our union continues to do important work in standing up for 2SLBTQi rights and in helping eliminate bullying, hate and discrimination at work and in our communities," said President Wayne Hanley. "On the International Day of Pink, we stand in solidarity with our friends in the 2SLGBTQi community and reaffirm our commitment to building a more equal, safe and inclusive world for all."
While progress has been made, much work remains to be done.
Statistics Canada reported that LGBTQ2+ Canadians were more at risk of economic fallout from the pandemic, due to higher unemployment levels among young workers, lower personal income, housing insecurity, and having fewer resources to fall back on.
In addition, Canadians, who are LGBTQ2+, "were more likely to report being violently victimized in their lifetime and to have experienced inappropriate behaviours in public and online than non-sexual minority Canadians."
The CBC noted that in 2019, 263 hate crimes occurred against LGBTQ2+ people, a 41 per cent increase over the previous year and the highest total since 2009.
A recent survey by EGALE Canada (Equality for Gays and Lesbians Everywhere) found youth are still facing homophobia at school, with more than 60 per cent of LGBTQ students reporting they did not feel safe in 2012 and in 2021.
The history of the International Day of Pink dates back to 2007 when two Grade 12 students at a Canadian school witnessed a gay student being bullied for wearing pink and decided to take a stand. They organized students at their Halifax school to wear pink the next day in support and solidarity. Today, the Day of Pink is observed on the second Wednesday of April around the world by millions of people.
UFCW 1006A is a strong supporter of the 2SLBTQi community and is committed to protecting the safety and well-being of its members. If you experience bullying or discrimination based on sexual orientation, please contact your union rep.