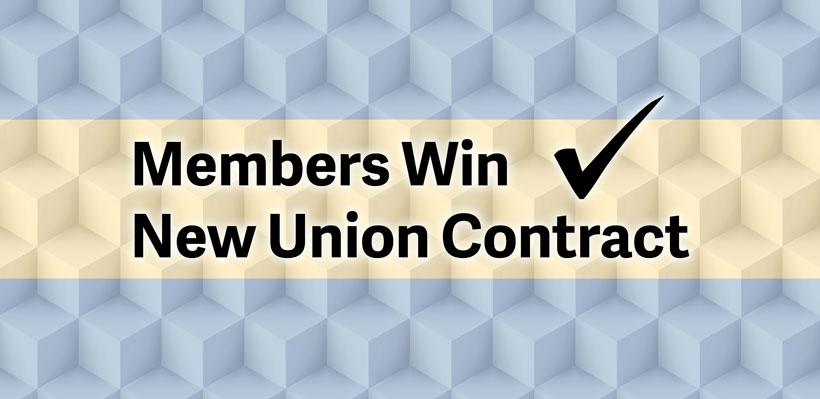 From wage increases to pension improvements, members at SSP Canada (Toronto Pearson International Airport) have ratified a new union contract with several improvements.
"I think the union negotiators did a phenomenal job," said Vito Padula, a union steward and a member of the negotiating committee. "I am 2000 per cent pleased with how they handled everything. They were professional, direct with the membership and the company and gave us full input through the process and it is a really good outcome for the members."
The term of the new contract is from November 10, 2021 to November 9, 2024 and covers 250 workers.
"We are proud of the exceptional work of our union committee who ensured the voices of the membership were heard and achieved this outstanding contract," said President Wayne Hanley. "Through their professionalism and skill, 1006A negotiators are leading the way in winning significant improvements and transforming the lives of workers. The unity and support of the members on the committee and at work were vital to achieving this fair contract."
The union negotiating committee included members, Davendar Rajrishe, Vito Padula, Wesley Foster and 1006A Recorder Glacier Effs-Samuel and 1006A Executive Assistant to the President Frank Ragni.
Our members work in Terminal 1 and Terminal 3 of the airport in a variety of different roles, including Food Service Attendants, Hosts, Utility, Bartenders, Production Cooks/Short Order Cooks, Servers, Warehouse/Store Room.
Highlights
10% wage increase over the term of the contract
Increase to number of sick days
Increase to premium pay
Improvements to pension contribution
New retirement package language
New transit reimbursement language
New shift bid language requiring the employer to do quarterly bids
Employee meal discount increased to 80% off
Improvement in dental coverage