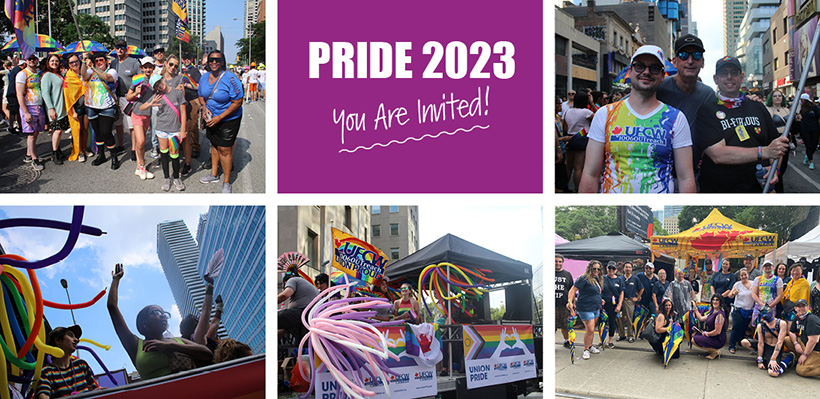 As a UFCW 1006A member, you are invited to join your union for Pride 2023.
Bring your friends and family to participate with your union in support of 2SLGBTQIA+ rights.
UFCW 1006A will rally for equality, human rights and inclusion at pride events in Toronto, London, and Ottawa this year.
TORONTO
March with your union at the Toronto Pride Parade, which takes place on June 25. Meet us at 4PM at Bloor & Ted Rogers Way, infront of St. Paul's Bloor Street Chuch (227 Bloor St E)
Members are also invited to visit 1006A's union booth at the Streetfair on June 24 and 25. It is located on Gloucester St, west of Church St. It will be open from 11 a.m. to 4 p.m.
If you are interested in participating and marching with your union, please contact 1006OUTreach coordinator Tania at This email address is being protected from spambots. You need JavaScript enabled to view it..
OTTAWA AND LONDON
On July 23, UFCW 1006A will participate in London Pride. On August 27, we will be marching at Capital Pride in Ottawa. More details on each of the events will be provided closer to the date.
In addition, UFCW Canada has supported the creation of a Pride Safety Toolkit, in the wake of rising levels of anti-trans and anti-2SLGBTQIA+ hate. We are also participating in the #Act4QueerSafety National Campaign campaign to stop hate against the 2SLGBTQIA+ community.
RESOURCES
Pride Safety Toolkit for Pride and 2SLGBTQIA+ event participants