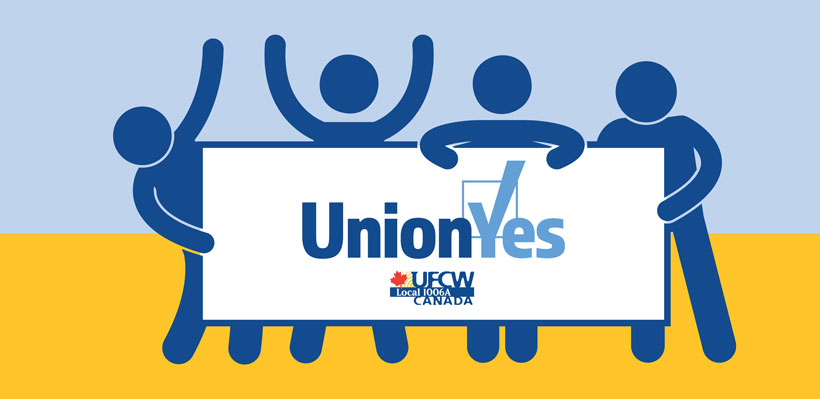 UFCW Canada Local 1006A is proud to welcome our newest members from Frulact Canada Inc.
"Unionizing gives us the power we need to bargain for the benefits we deserve," said new member, Andrew Orendorff.
Based in Kingston, the company handles the wholesale distribution of dairy products. They process fruits for dairy-based products, including yogurts, ice cream, smoothies and baking products.
"This is an exciting and momentous achievement for our newest members at Frulact Canada who showed tremendous courage and unity to achieve unionization," said President Wayne Hanley.
The bargaining unit consists of 51 workers. Key issues included scheduling and having a voice at work.
"Going union will help us bargain for better working conditions and allow the workers to come to work feeling more valued and appreciated," said new member, Keegan Compagnon.
Our members work in a variety of roles, including Filling & Batching Operator, Quality Control Analyst, Logistics Operator, Shift Team Leader, Relief Operator, Fruit Room Operator, Maintenance Technician, CIP Operator and Cleaner."I know I would like to see everyone treated fairly and equally," said new member, Alex Jeffrey.
Workers were thrilled by the results.
"Strength comes in numbers – being unionized gives workers a voice," said member Mark Moniz.
"There were multiple reasons I wanted to unionize – equality and having our voices listened to were among the most important," said Carey Walker, another new member.
"We are looking forward to working with this dynamic and hardworking group to obtain the improvements these workers deserve," said Lesley Prince, Director of Organizing for 1006A. "Congratulations and welcome to the UFCW Canada Local 1006A family."
If you would like to learn more about joining out movement for fairness at work, please contact our Organizing Department.