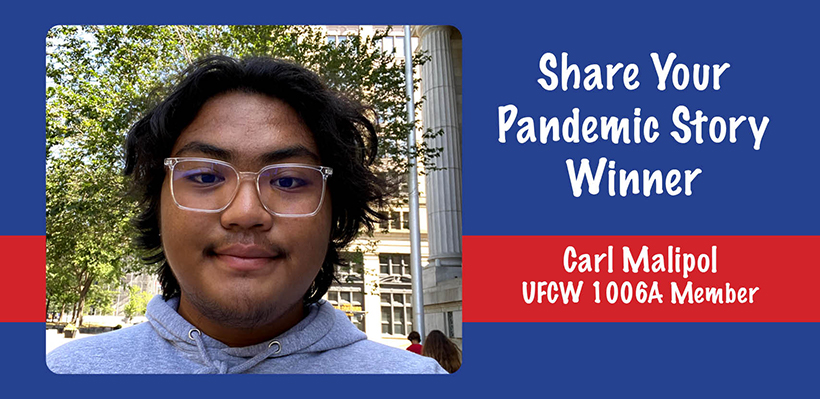 UFCW 1006A member Carl Malipol, who works at No Frills, is one of the winners of our Share Your Pandemic Story contest! Congratulations Carl!
Your union is awarding 20 prizes – worth $250 each – to members whose entries are selected in the Share Your Pandemic Story contest.
There is still time to submit your entry. Deadline is October 28, 2021
Here is Carl's story.
When Covid hit back in March 2020, we were all told to stay home and the city would be placed in a lockdown for 2 weeks.
"During that time, I was only a Grade 10 high school student. Ever since classes had been switched to remote learning, it was hard for me to have the motivation to learn. I wanted to sleep and do nothing all day.
Fast forward to today, I've failed 9 courses and am entering my senior year in September. Knowing that I might not be able to graduate with my class makes me depressed and knowing if I just took the initiative to continue learning, I wouldn't be in this position. But I can't change the past. So after today, it's every day for myself. I want to redeem myself.
I want to share my story so that for any other high school students who work during school can remember that if they ever feel that school and work is too much, they can look back at this and remember that YOU have to make the change."
Share your pandemic story. You can submit your entry today. Deadline is October 28, 2021