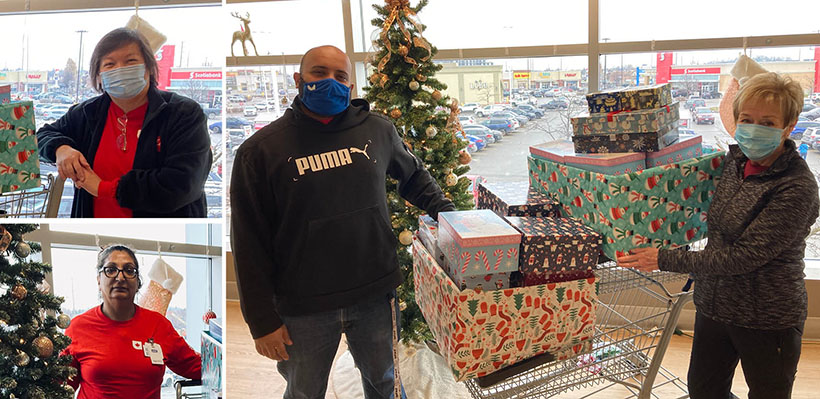 UFCW 1006A members in Whitby are letting their holiday spirit shine, by creating shoe boxes full of gifts for local women's shelters this December.
Nancy Prout, a 1006A WIN member and steward, worked together with union members, Jason Boward, Jennifer Serrano and Angela Perry on this initiative to provide hope and support to women at shelters.
"This initiative is about sharing empathy, kindness and compassion with local women impacted by homelessness through the collection and distribution of gift-filled shoeboxes and messages of support," said Prout. "It is an opportunity to provide women, who are living in shelters in our community, a shoebox gift filled with some little luxuries that would hopefully bring a smile to their face."
The shoeboxes were filled with various essential items including, shampoo, conditioner, deodorant, toothbrushes, toothpaste, body wash, lotions, hairbrushes, mitts, scarfs and socks.
"I was motivated and felt the need to take action to support women living in shelters – to help promote their confidence and ensure they felt that they are seen, valued and treated with dignity," said Prout.
"Our 1006A activists make us proud with their efforts to make the holiday season brighter for those who are suffering," said President Wayne Hanley.