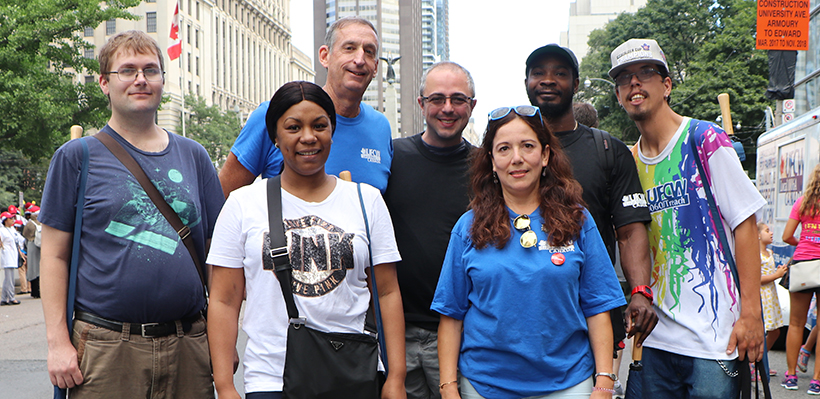 On September 5, 1006A members and stewards will be gathering in-person for the first time since the pandemic began two years ago to march for workers' rights in downtown Toronto.
Members are invited to bring their families and friends to march with UFCW 1006A.
We will be at the southeast corner of University Avenue and Queen Street in Toronto between 8:15 a.m. and 9:15 a.m. Look for the gold UFCW flags. The local union will be distributing CNE wristbands to members and their families and friends, who march with us through the entire parade route. Registration is now closed – members are still welcome to attend and march without registering, however we can not guarantee a CNE wristband.
"The labour movement has transformed workers' lives for the better across our country," said President Wayne Hanley. "I'm proud to be a UFCW 1006A member and hope you are too. As a union member you are part of a movement that ensures workers' voices are heard at the highest levels. You are part of a movement that is relentless in negotiating and advocating for improvements for workers' rights and needs in the face of powerful business interests. Our movement proudly continues to help build a fairer and more just country."
This year's theme will be "150 Years Together: Together We Did; Together We Can and Together We Will," in honour of the labour movement marching 150 years ago to demonstrate its power and strength.
This Labour Day, let us come together to mobilize for change, raise awareness about the struggles workers face and celebrate workers' achievements.
"After two long years of restrictions, this is a unique opportunity for us to come together, and recognize the efforts of our members who worked on the frontlines to keep Ontario running, and to reaffirm our commitment to improving workers' rights in this province," said President Hanley.
For more information about Labour Day events in your communities check out the Canadian Labour Congress Labour Day Event Listing