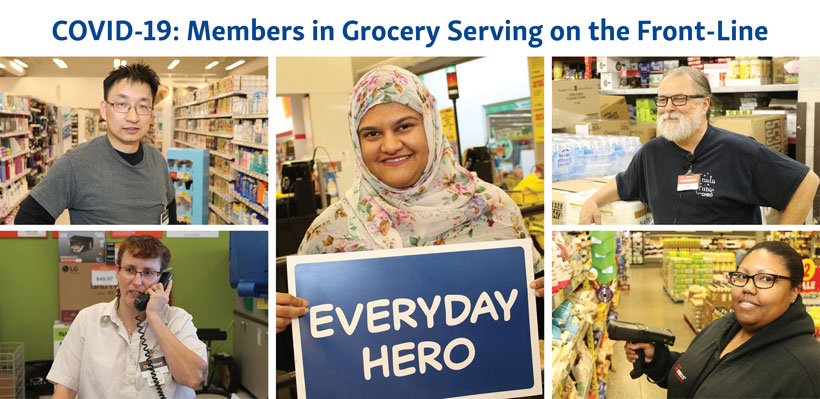 I know it has been a difficult and uncertain time for many of you at the stores and warehouses.
I know you are worried and unsure, as many Canadians are, about what the future holds.
That's why I am hoping to share some good news with you today.
Our relentless work, behind the scenes, to push companies for enhanced protections and hazard pay has been successful.
Companies are listening to our advocacy on your behalf. After our repeated discussions with senior company officials, Loblaw has announced $2 per hour premium for all full-time and all part-time members who work during the pandemic (retro-active to March 8, 2020).
This will apply to all our members working at Loblaws Great Food, Real Canadian Superstore, No Frills, Your Independent Grocer, Valu-Mart, Maplegrove Warehouse & Transport and Apect in Pickering. This means approximately 25,000 UFCW 1006A members across Ontario will receive this premium pay.
With our input, the company has also made significant changes to improve health and safety protections, from enhanced measures to provide hand sanitizers to installing plexiglass for cashiers/pharmacy.
During the last few weeks, your union has been tireless in pressing senior company officials and government leaders across Ontario and Canada to take urgent action to protect grocery workers. These high-level discussions have been consistently taking place in the background because as always, you are our number one priority.
I want to thank you for your hard work on the frontlines – it is essential work and you deserve to be compensated and protected. Thank you for all you are doing – you are making a difference.
I also want to thank many of you who have provided us feedback through various channels. Your valuable feedback about your concerns and issues has made a tremendous difference in our discussions with the company. Although we have made great strides on your behalf, more needs to be done. We will continue to push employers for more personal protective equipment for our members as needed.
During this uncertain time, please know your union is there for you as always. You can count on us. If you have any issues or concerns, you can contact your union representative.
In Solidarity,
Wayne Hanley, President UFCW Canada Local 1006A