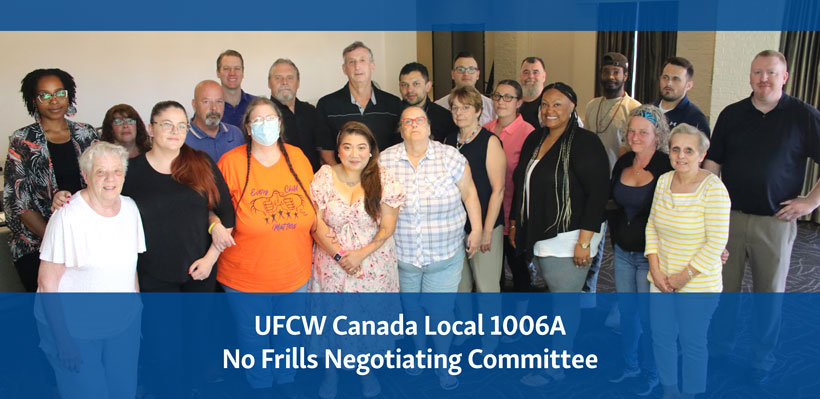 The No Frills ratification vote has been scheduled. Members will be able to vote online or by telephone from Sunday October 16 (1pm) to Wednesday October 19 (1pm).
We are hosting two telephone town hall meetings to allow members to hear more about the settlement and ask questions. You will receive a call: Sunday, October 16, 2022 (11 am AND 5:30 pm).
Ratification vote information packages are being mailed to all members' homes. Please watch your mailbox for vote information as October 16 approaches.
You will be able to vote online or by telephone.
I encourage all members at No Frills to participate in this important vote.
If you do not receive your vote package by Thursday October 13, 2022, or if you have any questions please contact your union representative.
In Solidarity,
Wayne Hanley (he/him)
President, UFCW Canada Local 1006A
We want to connect with all members: If you know members that did not receive this update via email, please encourage them to update their contact details here.
________
No Frills Negotiations: Tentative Memorandum of Settlement Reached
Following two days of round-the-clock negotiations, your union negotiating committee reached a Memorandum of Settlement with No Frills at 3 a.m. on Saturday, September 17, 2022.
Due to members' strong support of their negotiating committee, we were able to reach a fair settlement. The negotiating committee is unanimously recommending the settlement to members.
A ratification vote will be scheduled in the coming weeks where members will be able to review the details of the Memorandum of Agreement. Vote details will be posted at www.ufcw1006a.ca and on your union bulletin board once scheduled.

At your union's request, a Ministry of Labour conciliation officer joined this latest negotiations session after talks showed little movement during previous dates. A conciliation officer's role is to mediate talks and assist the union and the employer to resolve their differences and achieve a collective agreement.

In July, members voted 96% in favour of a giving their committee a strong strike mandate if a fair settlement could not be reached. Previous negotiations sessions took place in March, April, June and July.

Your union negotiating committee thanks members for their unwavering support through the process.

As always, your union representative is available to answer any questions you may have.

In Solidarity,
Wayne Hanley (he/him)
President, UFCW Canada Local 1006A




Read my previous updates here:
August 24, 2022: Conciliation Dates Set
July 28, 2022: Union Files for Conciliation
July 14, 2022: Members Deliver Strong Strike Mandate
June 17, 2022: No Frills Negotiations Break Off; Strike Vote Scheduled
April 29, 2022: Negotiations Progress, Future Dates Set
April 1, 2022: Negotiations with No Frills Begin
February 25, 2022: Union Committee Meets, Preparations Continue