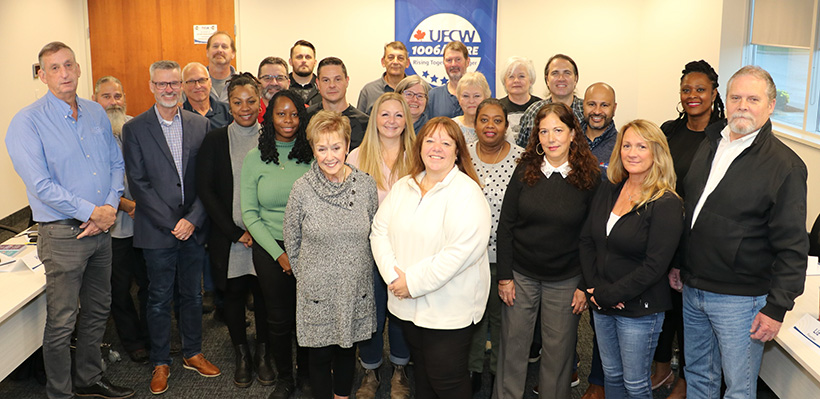 October 20, 2023
As part of our preparations for negotiations with the company, UFCW 1006A's negotiating committee for Loblaws Great Food & Real Canadian Superstore held its first meeting on October 20 to discuss and prioritize the proposals submitted by the membership.
Your union negotiating committee's goal is to achieve the best possible contract for our 13,000 Loblaws Great Food and RCSS members. Thank you to all our members who submitted proposals and made your voices heard.
The negotiating committee includes 14 rank and file members, who were elected at proposal meetings held across Ontario in early October. The committee also includes Local Union Executive Board members who work at Loblaws Great Food or RCSS, experienced union negotiators and union staff.
We are also pleased to announce that member negotiation liaisons have been recruited in each of the 60 Loblaws Great Food and RCSS stores that we represent across Ontario.
With the union contract set to expire in June 2024, engaging and mobilizing our membership remains a top priority. Our union is stronger when members are engaged.
Further updates will be provided as negotiation dates are set with the company.
If you haven't completed our negotiations survey, you can still rank your negotiation priorities at https://ufcw1006a.typeform.com/lgf-rcss-survey
If you have any additional questions regarding the negotiations process, please do not hesitate to contact your Union Representative.
Previous Updates
October 13, 2023: Negotiating Committee Election Results
September 8, 2023: Proposal Meeting and Bargaining Committee Vote
August 14, 2023: Preparations for Loblaws Great Food and Superstore Negotiations Begin