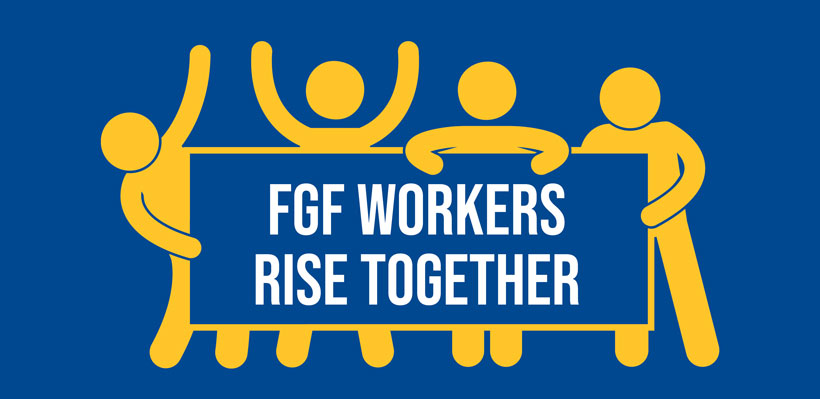 In 2017, workers at FGF reached out to UFCW Canada to make their company an even better place to work. FGF didn't like the idea of workers organizing a union and having a voice on the job. FGF fired three workers, ending the union campaign. UFCW quickly filed charges against the company at the Ontario Labour Relations Board.
It took 21 days of hearings, and nearly three years to have the Labour Board rule what we already knew – FGF broke the law. We regret that it took so long to get justice, but we hope it shows you our commitment to you – we fight for fairness and we stand by our members!
The Labour Board (PDF of ruling) has ordered actions to remedy FGF's illegal interference in your democratic right to join a union. The Board decision means you and your co-workers have the opportunity to consider the many benefits of joining our union. Over the coming weeks, we will be reaching out to FGF workers to show you why millions of Canadians belong to unions.
UFCW Canada Local 1006A proudly represents over 35,000 of members in a variety of industries across Ontario. We have a proven track record over our 76 year history – we commit to getting fair union contracts for our members. For our members at Weston Bakeries, this means our members have annual wage increases, job security, and a strong voice for health & safety.
We are always available to answer any of your questions or provide more detail about the Labour Board decision.
Call/Text (647) 518-3973‬ or email us at This email address is being protected from spambots. You need JavaScript enabled to view it.. All communications is 100% confidential.
Did you know?
FGF products are largely sold by unionized grocery store members working at Loblaws, Superstore, No Frills, and more?
Local 1006A offers 42 Annual Scholarships worth $1006 each + Members and their family can access hundreds of free online courses through WebCampus
Local 1006A offers comprehensive WSIB services for members. Read how we helped Emily who contracted COVID-19.
Employers often use union dues as a way to scare workers from joining unions. We've provided details about our union dues in the FAQ below. If you have any questions let us know – we are happy to answer them.
Questions & Answers
What laws protect workers when joining a union?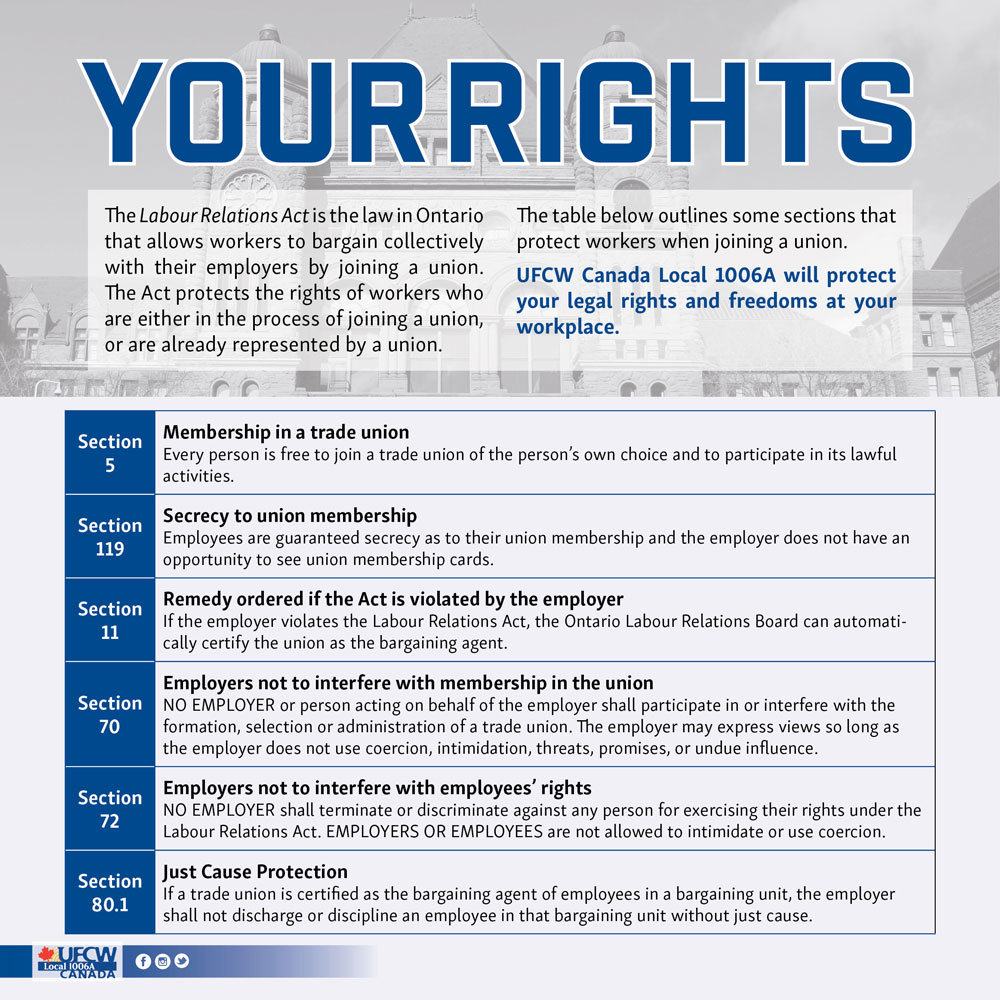 How can having a union help during the COVID-19 pandemic?

***A Toronto Star story recently made public the scale of the large COVID-19 outbreak at FGF – UFCW urges workers who tested positive to file a WSIB claim to protect against possible future complications caused by this virus.*** See our COVID-19 and WSIB resource page. Read the Toronto Star story here.
---
Since the beginning of the COVID-19 pandemic, our union has been working with our employers to implement strong supports and protections for our members. We helped pioneer many of the safety standards and protocols such as plexiglas shields, employer provided masks and gloves – things that are now commonplace at many worksites.
Our members' input is critical to establish and uphold these protocols. Unionized workers can raise their health and safety concerns knowing that they are protected from reprisal.
Local 1006A is advocating for FGF workers to ensure your health & safety is prioritized over profit. Read our letters to FGF: July 22, 2020 Letter and our November 2, 2020 Letter (PDF).
Read about how we helped our member Emily navigate WSIB when she contracted COVID-19.
Joining the union sounds great! What about union dues though?

Local 1006A has a proven track record of good financial management. This allows us to have some of the lowest membership dues around.
Dues pay for the things members need most from their union. Things such as workplace visits from a union representative, negotiating union contracts, providing Health & Safety and WSIB services, filing grievances when an employer puts up a fight and much more.
Members working in newly organized workplaces don't pay any initiation fees, plus you don't pay dues until members vote in favour of their first union contract.
Also, union dues are 100% tax deductible!
Employers often use union dues as a way to scare workers from joining unions. If you have any questions about union dues, just ask us – we are happy to answer them.